UK wants him released but US says he is Bin Laden associate who has incited hunger strikes and 'runs half the prisoners'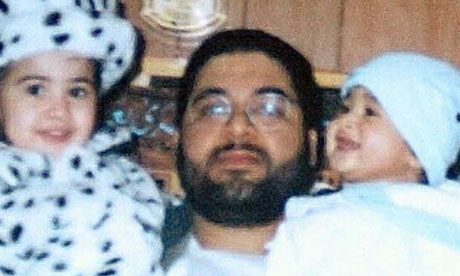 A British resident whose release William Hague has sought from Guantánamo is alleged by the US to be a top al-Qaida terrorist and one of the key leaders inside the camp, leaked files from the prison camp in Cuba reveal.
After
Shaker Aamer's
nine years of imprisonment without trial, the US is refusing to let him return to the UK despite repeated official requests from Britain. He is one of the 172 untried inmates who remain marooned in the prison camp.
The authors of Aamer's 15-page prison file claim he controls the other inmates, organises hunger strikes, makes false allegations, and is a "close associate" of Osama bin Laden as well as a former key member of the "London cell".
They say he was a former London room-mate of Zaccarias Moussaoui, the 9/11 conspirator serving a life sentence in the US.
This lurid picture clashes with a very different British view.
The foreign secretary, William Hague, repeated on 31 March that he was pressing the US to return Aamer "to put right some of the damage caused to Britain's moral authority by allegations of complicity in torture and in rendition leading to torture".
Two years before that, in March 2009, the Foreign Office's counter-terrorism head, Robert Chatterton-Dixon, told the US state department's counter-terrorism specialist, Dell Dailey, that neither Britain nor Saudi Arabia would prosecute Aamer if he were released.
In a classified cable obtained by the Guardian, Dailey said Robert Hannigan, the UK's security adviser, was also present.
Dixon "raised the Guantánamo detainee case of Shaker Aamer, a Saudi national and former British resident whose wife and children are resident in the UK. He reiterated the British request for Aamer's release and return to the UK and did not believe Aamer would be subject to British or Saudi criminal proceedings on his return."
Aamer's Guantánamo file, not updated since November 2007,
claims the opposite
, saying the Saudis have implicated him in high-level crimes. "Saudi intelligence (Mabahith) stated detainee left Saudi Arabia and joined [Osama bin Laden] in Afghanistan.
"The Mabahith identified detainee as a high priority for the government of Saudi Arabia, an indication of his law enforcement value to them.
"
Aamer has not only alleged he has been tortured , but also led a hunger strike.
His file details the GTMO administration's marked hostility towards him, possibly as a result. The file says: "Detainee is unco-operative and continues to withhold information of intelligence value about his extremist activities and associations. Detainee has failed to fully account for his travels and high-level associates which have been reported by other JTF-GTMO detainees.
"Detainee is extremely egotistical, has manipulated debriefers and guard staff, and will continue to attempt to do so to support his political agenda.
Detainee refuses to participate in direct questioning, often citing imaginary or assumed mistreatment of himself, or others, as justification of this refusal in a classic example of al-Qaida counter-interrogation techniques."
The file's authors quote one of his fellow prisoners allegedly saying Aamer "runs all the other detainees" and add their own assessment: "He can summon support from over one half of Camp Delta's detainee population."
In a list of alleged continuing "activities against the US" while a prisoner, the files quote other prisoners admitting he "passed information to other detainees" and "had the necessary power and control [over the detainees] to issue an order for other detainees to attempt suicide".
Aamer was "very happy about" one such attempt, according to a notorious prison informer, Mohamed Basardah, who has been accused of unreliability.
The files claim: "Detainee stated that the death of a detainee at JTF-GTMO would 'open the eyes of the world and result in the closure of the base'."
Another alleged piece of intelligence attempts to implicate Aamer's lawyer, Clive Stafford Smith, in helping to organise a hunger strike, a claim Stafford Smith has already vigorously denied.
The file says that this second informer "stated the primary reason the JTF-GTMO detainees went on the hunger strike was because detainee's lawyer told them exactly what they needed to do".
The alleged informer also told interrogators that he saw Aamer personally meet Osama bin Laden during the fighting in the Tora Bora mountains of Afghanistan.
The informer, described as "highly compliant", is also recorded claiming knowledge of "the possible procurement of portable nuclear bombs by Chechen mujahideen leaders".
He has subsequently been released, while Aamer remained inside.
Aamer was originally captured in Jalalabad by Afghan forces after the retreat from Tora Bora in December 2001. He was turned over to the US and alleges that British intelligence officers were present while he was being maltreated at the Bagram airbase. He was then flown to Guantánamo on 13 February 2002.
He is understood to be one of a group of British-based detainees who have received a compensation settlement from the UK government.