Libya is another case of selective vigilantism by the west
Bombing Tripoli while shoring up other despots in the Arab world shows the UN-backed strikes to oust Gaddafi are purely cynical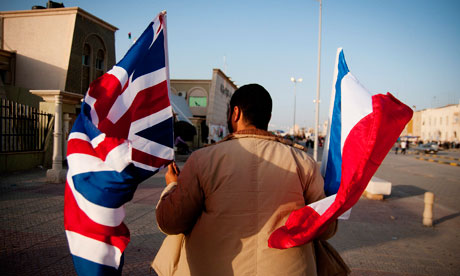 The US-Nato intervention in Libya, with United Nations security council cover, is part of an orchestrated response to show support for the movement against one dictator in particular and by so doing to bring the Arab rebellions to an end by asserting western control, confiscating their impetus and spontaneity and trying to restore the status quo ante.

All this might trigger a third phase at some stage: a growing nationalist anger that spills over into Saudi Arabia and here, have no doubt, Washington will do everything necessary to keep the Saudi royal family in power. Lose Saudi Arabia and they will lose the Gulf states. The assault on Libya, greatly helped by Gaddafi's imbecility on every front, was designed to wrest the initiative back from the streets by appearing as the defenders of civil rights. The Bahrainis, Egyptians, Tunisians, Saudi Arabians, Yemenis will not be convinced, and even in Euro-America more are opposed to this latest adventure than support it. The struggles are by no means over.
Obama talks of a merciless Gaddafi, but the west's own mercy never drops like gentle rain from heaven upon the place beneath. It only blesses the power that dispenses, the mightiest of the mightiest.